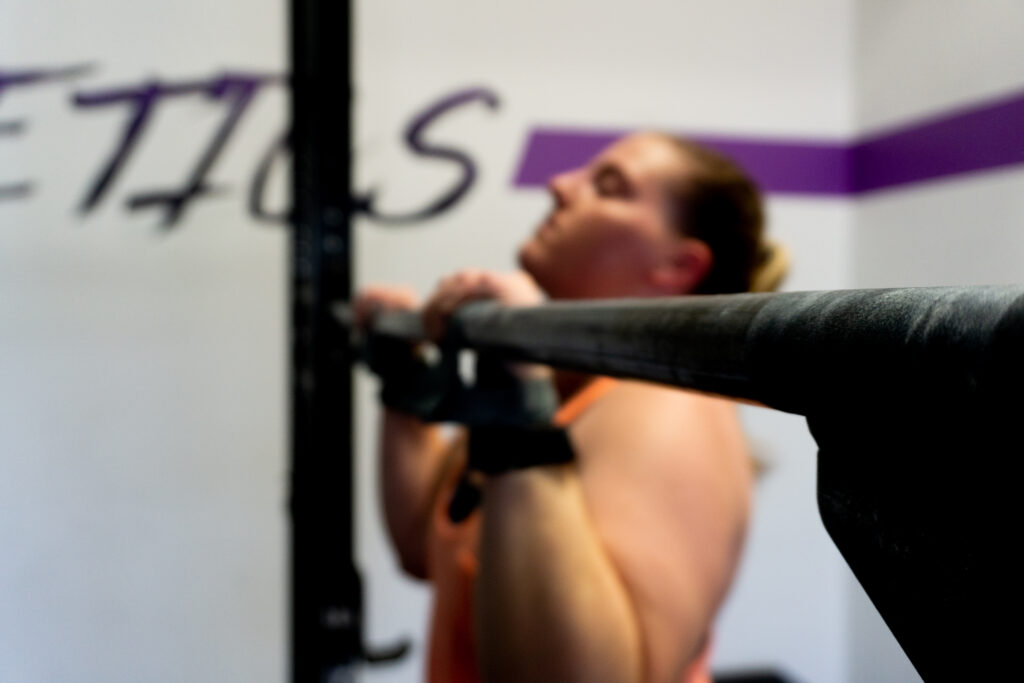 WARM UP
2 rounds: (1st round = moderate/ 2nd round = hard)
2 min bike
2 min row
(8 Min Total)
Movement primer:
1 round:
50ft Step over hurdles
50ft Step over hurdles backwards
50ft Toe out walk
50ft Toe in walk
50ft Walk on toes
50ft Walk on heels
50ft Ostrich walk
*This will get the hips, knees, and feet prepared for the shuttle runs.
1 round:
10 Lateral box step overs
5 Turkish get ups each side
10 Single leg RDL (unweighted)
5 Single arm quadruped scap push up
*Get the legs, glutes, and upper body ready for all the pressing.
2 rounds:
10 Scap pull ups
5 Pull ups
*Prepare the shoulders for all the pulling!
2-3 Rounds of:
Clean Warm up
*Warming up high skill movements is extremely important. Do NOT just throw on 135 and start. You need to make sure everything is firing in the correct sequence. Also note – stand up very fast from the front squat just to help prepare the legs here.
WORKOUT PRIMER
5 Rounds: (FOR QUALITY not for time)
2 Burpee pull ups
50ft shuttle run
1-3 thrusters from the floor (work up to a heavy-ish
*During these 5 rounds you need to accomplish a few things:
Try a few different types of burpee pull up strategies (see what is most efficient)
Turn around on shuttle runs without stutter stepping at the end (be smooth)
Build up to a relatively heavy thruster
*These 5 rounds should calm the nerves and help you feel efficient on each movement. It will also establish a good starting weight for your thruster.
EMOM x 10
1 – :30 Suitcase Carry
2 – :30 Weighted Sorenson hold
CROSSFIT OPEN WORKOUT 23.2 A
Complete as many reps as possible in 15 minutes of:
• 5 burpee pull-ups
• 10 shuttle runs (1 rep = 25 ft out/25 ft back)
*Add 5 burpee pull-ups after each round.
For full equipment details, categories, and scoring options visit: https://games.crossfit.com/workouts/open/2023/2
CROSSFIT OPEN WORKOUT 23.2 B
Immediately following 23.2A, athletes will have 5 minutes to establish:
• 1-rep-max thruster (from the floor)
*MUST BE PERFORMED DIRECTLY AFTER TRAINING:
GYMNASTICS
2 Rounds:
4 Weighted Pull Ups
16 Push ups
16 GHD Sit Ups
Rest 1 min between rounds
*Heavier than last week
SNATCH GRIP SOTTS PRESS
3X10 With an empty barbell (focusing on positions)
POSTERIOR CHAIN
3 Sets:
10 Weighted Hip Extensions
Rest 2 min between
DOWN REGULATE

Lay down on your back with your feet up. If you can cover your eyes with a towel/be in a dark room. Turn all music off or turn on weightless by macorni union. For 5 min perform 4 second inhale, 4 second hold, 8 second exhale.
Movement demos available on our Youtube Channel. Like what you see? Sign up and try us– 2 weeks for FREE!